How to change firefox language settings
How To Change Firefox Language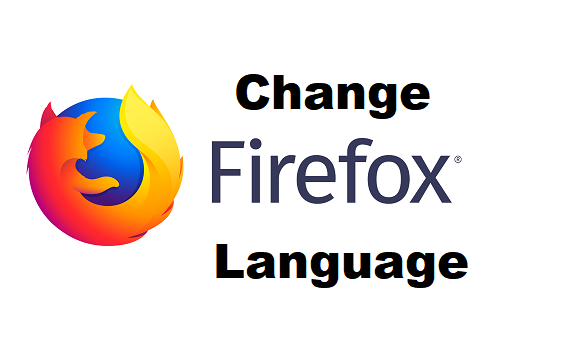 Have you thought of changing your Firefox language to a suitable language? Well, yes, it is possible and in this article, we are going to show you how to change Firefox language. You should have no issues in changing your Firefox language after reading this.
You would agree with me that not all Firefox users are comfortable with the default Firefox display language which is English. Some users may prefer Firefox in another language that's why we have chosen to share this article for users to understand their ability to customize and modify their Mozilla Firefox browser.
Now, let's stray away from the topic of today and have a quick understanding of what Firefox is.
Firefox can be defined as a free web browser developed by Mozilla and it is used to surf the World Wide Web easily in other to get/send information, download music, videos, apps etc. and also for communication purposes.
Firefox offers a very clean interface and super-fast downloading speed, it also records about 100 million users. Its interface is user-friendly and easy to operate.
Okay, time for the main business of showing you how to change Firefox language.
Don't worry. We will make the steps easy and explicit.
How To Change Firefox Language
1. Open your Firefox browser.
2. Click on the menu button.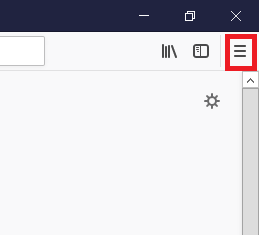 3. Click on options.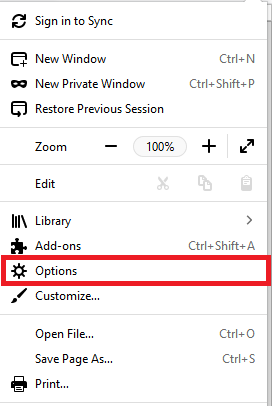 4. On the General tab, scroll down to language and appearance.
5. Click on Choose under Language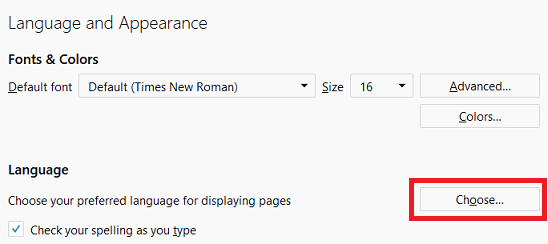 6. Click on "select a language to add"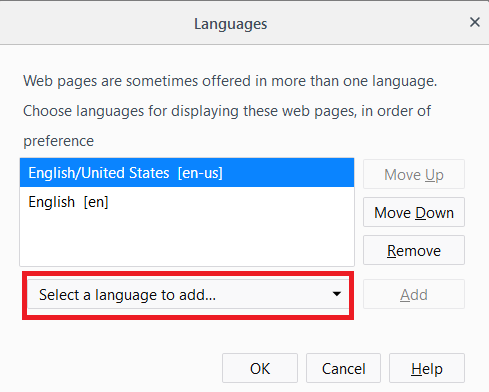 A list of Firefox preinstalled languages will be displayed. It contains about 240 dialects.
7. Select the language of your choice and click on Add.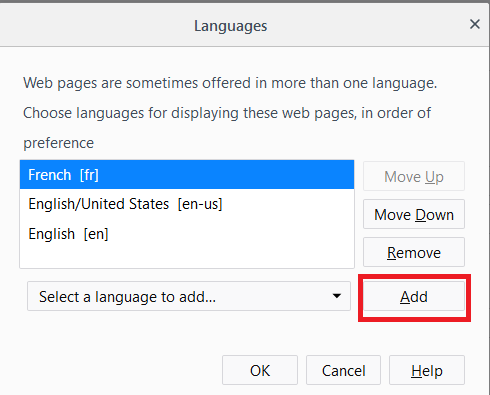 8. Restart your browser.
By now your new language should be added to the list. From observation, the new language displays first by default in order of preference.
You can change the order by using the Move Up and Move Down buttons provided. To remove a particular language from the preferred list options, select it and then click on the Remove button for it to be properly deleted.
If you are satisfied with the changes you have made, click the Ok button to take you back to preferences, once you are there, close the tab and continue your browsing session or input a new URL to start a new session.
Note: Not all page contents may support your preferred language.
And that's a wrap people, I hope you all enjoyed reading this article as much I as loved writing it. Remember to show some love by sharing this article via social media platforms.
Frequently Asked Questions And Answers
Q: How many times can I change my Firefox language?
A: You can change your Firefox language as many times as you desire. There's no limit.
Q: Is Firefox the same as Mozilla Firefox?
A: Yes, it is, Firefox is just a shorter way of calling Mozilla Firefox.
Q: If I move down the language I have just added, can I still choose it as my default language?
A: Yes, you can, it only comes up first because of its preferential order.
How to Change the Default Languages in Mozilla Firefox
Tell Firefox which language you prefer when viewing webpages
trait2lumiere / Getty Images
Some websites can be rendered in several different languages, depending on their configuration and your web browser's abilities and settings. Firefox, which supports over 240 global dialects, provides the ability to specify which languages you prefer to use when viewing web content.
Before rendering text on a page, Firefox first validates whether or not it supports your preferred languages in the order that you specified them. If possible, the page's verbiage is then displayed in your preferred language. Not all web pages are available in all languages.
How to Specify Preferred Languages in Firefox
Setting and modifying Firefox's list of preferred languages can be done quickly. See the steps below:
In Firefox, select the hamburger (3 horizontal bars) at the top right corner of the menu bar.
You can also type about:preferences into the Firefox address bar.
Select Options.
In General preferences, scroll down to the Language and Appearance section.
Under Language, select your desired language under Choose the languages used to display menus, messages, and notifications from Firefox by selecting Search for more languages.
In Firefox Language Settings, the browser's current default language is shown in order of preference. To choose another language, select Select a language to add.
Scroll through the alphabetical language list and select the language of your choice. To move it into the active list, select Add.
Firefox users may still download a different language version of the web browser and install it over the current installation to change the language, but they don't have to if they run Firefox Beta or Stable.
Firefox Nightly is excluded because strings change frequently in the browser.
Load about:preferences in the browser's address bar.
Scroll down to the Language and Appearance section.
The current interface language is displayed under language. Click on «Set Alternatives» to add additional languages to Firefox.
Select «Select a language to add» and then «Search for more languages».
Firefox retrieves the list of supported languages from Mozilla. Click on «select a language to add» and pick one of the available interface languages to add it as a language in Firefox.

Tip: tap on the first letter of the language's name to jump to the letter in the listing.

Select Add to add the language. Firefox downloads the language pack from Mozilla and adds it to the browser. If a dictionary is available, it is also downloaded.
Repeat the process for other languages that you may want to add.

The order of languages determines the priority in which they will be used. You may use the move up or down buttons to change the order.

Click on the ok button once you are done.
Firefox displays a restart notification afterward if you changed the main display language. The restart notification is displayed in the old and new interface language. Select «apply and restart» to restart Firefox so that the new interface language is used.
The preference intl.locale.requested determines the priority of languages in Firefox. The preference is only available if two more more languages are installed in the browser.
Mozilla hopes to improve the process further in future versions of the Firefox web browser. One possibility that is discussed currently is to complete the migration to Fluent; this would enable restartless language switching and support for non-English fallback locales. Firefox falls back to English automatically if a string is missing from a language file.
Closing Words
The new language changing options in Firefox 65 improve the process significantly. Everything that is needed is included in Firefox or downloaded automatically from that version of the browser on.
While the total number of Firefox installations that have their interface language changed is unclear, it does not appear that uncommon of an operation.
Now You: Did you ever changed the interface language in a browser?
How to Change Language Settings to English in Firefox, Explorer and Chrome
Losing your English Language Settings could happen in any number of ways: By accident or even downloading software without configuring the proper settings. In that moment, it matters little how you got yourself into this little quagmire- all that matters is getting your browser to communicate with you in the language that you understand-English.
So what can you do?
Thankfully, this formatting is generally standardized. This means that you can count on finding the icons and their arrangements in the same spot every single day. Like many things in life, software would be highly cumbersome to use without this basic feature. Driving a car on a highway with constantly shifting traffic rules paints a good picture.
Finding your directions around your browser
It's worthwhile to discuss the different placements of crucial settings on your browser when you can't read the instructions. Take care to note the numbering of the different items in the different folders, as this alone will matter once the language settings have been altered.
Summary Instructions for Firefox
Top-Across: Firefox Menu
2nd Column (Top-Down): 5th Item in List
Top-Down. 1st Item on List
Top-Across: 3rd Item
Top-Down: 6th (Last) item in List
1st Column (Top-down): 2nd item/item under box of languages
Select »English»
2nd Column: 4th Item
1st Column,1st box: Select English
2nd Column: 1st Item
Bottom-Across: 1st Item
Bottom-Across: 4th Item
The rectangle space or boxdiscussed in main instruction no.3 across is a column of four items in the form of four small bokes arranged from top to bottom along the right side of the window which are used to set the order of priority of use in the list of languages.
They are the »move up», »move down», »remove» and »add» buttons arranged in that order. The first one moves the selected language up, the second one moves it down, the third one removes it from the list and the fourth one adds a new language to the list from the myriad of languages available.
1) Firefox
For Fire fox one needs only click the main menu of firefox which is always at the upper right corner of every page and choose »options» which is the second last item in the second column with an arrow next to it. This in turns opens up another list of items with the very first item being another »options» item. Clicking on it opens up the »options» folder.
The »options» folder is a box with a row of seven items right across the window with different kinds of icons for each item. The third item from your left which is also sixth from your right is »contents» and it opens up a list of settings. The »languages settings» is the very last one on the list and it will open up a languages settings folder.
This folder has a large rectangle space or box to the left of the window in which the languages currently in use by firefox are listed in the order of priority of use. One should check for English and move it up to the top spot as explained below. If English is not listed, then one must add it.
Right under the large box of the list of languages and adjacent to the »add» or fourth button is a link to a drop-down menu of languages in the form of a long rectangular button. Scroll and choose an English option from the drag folder by clicking on the »add» button which, as explained is the last or fourth in the column of buttons.
You can then click on this language which should now be listed last among the languages currently in use, and move it up to the top of the column using the »move up» button.
2) Google Chrome
At the upper right corner of any page of Google Chrome, right beneath the »close» button or »x» icon is an icon or picture of a wrench or spanner. Click on it to open a folder of eighteen items. The »general settings» are placed fourteenth from the top, or fifth from the bottom.
Click on the »general settings» or fourteenth item to open the Chrome general settings page. Under the list given is the »advanced settings» link which opens up additional settings. »Languages» is listed fifth from the bottom.
Click on the little box displayed under language settings. This will open up a window displaying the language currently in use by Chrome. Look for the English language on that list and then cancel all the other languages listed there by clicking the »x» icon next to each language. Close the Chrome page and reopen. The settings should have now changed to English.
Alternatively, once you pick an English option, you will be able to click on the two options to the right of the box with the list of languages. Click on the first one, then close Chrome and re-open it.
Summary Instructions for Google Chrome
Top-Across: Wrench Icon
Top-Down: 14th Item
Page Bottom: Link
Bottom-Up: 5th last Item
Bottom-Across: Under the box of languages
Select English
2nd Column, Adjacent to Languages box: 1st Item
Bottom-Across: Left Corner
Close and Re-open Chrome
If you can't find English on that list, you can click the little box right below the list of languages on the bottom left corner. This leads to a drop-down menu with a list of many languages among which are several English options. Choose one by clicking on it. It will then appear last in the list of languages currently in use. Continue as in third and fourth step above, close the Chrome and re-open it.
Summary Instructions for Internet Explorer
Top-Across: Left Corner
Bottom-Up: 2nd Last Item
Top-Across: 1st Item
Bottom-Across: 2nd Item
Right Margin:Top-down: 4th Item
Bottom-Across: 2nd Last Item
3) Internet Explorer
a) Explorer is very similar to firefox in this area. Simply click on the tools icon which is the very last item in the upper left corner of any Internet Explorer page, right underneath the »close» or »x» icon. It opens up a folder with a list of items in which the »Internet Options» item is the second last listed item.
b) Click on the second last item to open up a box or window of the »internet settings». In this box, in the upper margin, is a row of items across from left to right. The very first one opens up a list of settings. At the bottom is a row of four items, in which »languages» is listed second. Clicking on it takes you the languages settings folder.
c) This folder also has a large rectangular space or box in which the list of languages in use by Explorer are listed in order of priority. Check for English and move it up to the top spot as explained below. If English is not listed, then continue on.
d) Next to this large box is a column of four small boxes arranged from top to bottom along the right margin. Similar to firefox, they are the »move up», »move down», »remove» and »add» buttons arranged in that order. Click on the »add» button which is the last or fourth button in that column to open up a drop down menu of languages from which English can be chosen.
e) Click on this language and move it up to the top of the column using the »move up» button. At the bottom left corner are two adjacent boxes that stand for »OK» and »Cancel», with the »Cancel» buttom being the very last one at the corner. Click on the »OK» button.
Whatever browser you use, you only need to note which icon leads to settings and the placement of the language settings in the numbering of the general settings during your day to day use of your browser. Like reading a picture, you do not need to understand the language to find your way back to the language settings in order to change them back to English. Alternatively, one can also simply opt to use another browser or to redownload the program afresh.
Related
How to Stop Pop Up Ads from Ruining Your Web Browsing Experience
by Everyday Green 0
Chrome Vs Firefox, Which is Better? CPU Usage and More!
by Daniel Johnston 13
Popular
List of Browsers for All Devices, Plus Top Browser Tips
by Compu-Smart 12
Firefox Review 2019
by Anthony Godinho 127
List of The Top 5 Modern Web Browsers
Comments
reeteshverma7782@gmail.com
firefox plz. change the language to english
Reetesh verma
firefox plz. change the language to english
Edwardo Akuamoh
firefox pls change the language to english
Sanjay mane
English language require
msafirizahoro96@gmail.com
masemo ali
plz how i can change the language to english
muahammad kamran
lungauage to english
santadeepa bal
how i change the language to english . plz help
Eva Civo
Hey, Safiq! Glad I could be of help!
safiq ali patel
7 years ago from United States Of America
It's a shame Hub Pages have dropped the bookmark tool because this hub is one of those that I would bookmark. Very useful. Thank you very much for this.
Copyright © 2020 HubPages Inc. and respective owners. Other product and company names shown may be trademarks of their respective owners. HubPages ® is a registered Service Mark of HubPages, Inc. HubPages and Hubbers (authors) may earn revenue on this page based on affiliate relationships and advertisements with partners including Amazon, Google, and others.
HubPages Inc, a part of Maven Inc.
Arts and Design
Autos
Books, Literature, and Writing
Business and Employment
Education and Science
Entertainment and Media
Family and Parenting
Fashion and Beauty
Food and Cooking
Games, Toys, and Hobbies
Gender and Relationships
Health
Holidays and Celebrations
HubPages Tutorials and Community
Personal Finance
Pets and Animals
Politics and Social Issues
Religion and Philosophy
Sports and Recreation
Technology
Travel and Places
About Us
Copyright © 2020 HubPages Inc. and respective owners.
HubPages Inc, a part of Maven Inc.