How to change language of firefox
How To Change Firefox Language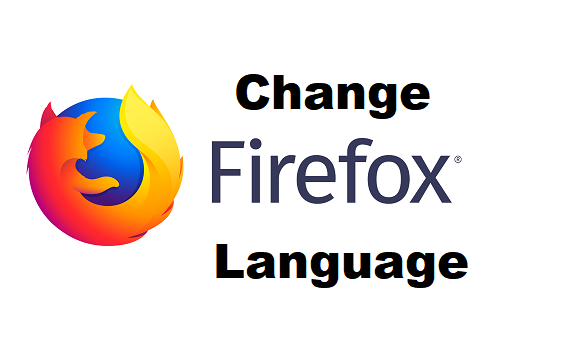 Have you thought of changing your Firefox language to a suitable language? Well, yes, it is possible and in this article, we are going to show you how to change Firefox language. You should have no issues in changing your Firefox language after reading this.
You would agree with me that not all Firefox users are comfortable with the default Firefox display language which is English. Some users may prefer Firefox in another language that's why we have chosen to share this article for users to understand their ability to customize and modify their Mozilla Firefox browser.
Now, let's stray away from the topic of today and have a quick understanding of what Firefox is.
Firefox can be defined as a free web browser developed by Mozilla and it is used to surf the World Wide Web easily in other to get/send information, download music, videos, apps etc. and also for communication purposes.
Firefox offers a very clean interface and super-fast downloading speed, it also records about 100 million users. Its interface is user-friendly and easy to operate.
Okay, time for the main business of showing you how to change Firefox language.
Don't worry. We will make the steps easy and explicit.
How To Change Firefox Language
1. Open your Firefox browser.
2. Click on the menu button.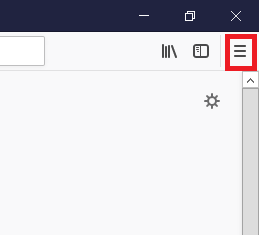 3. Click on options.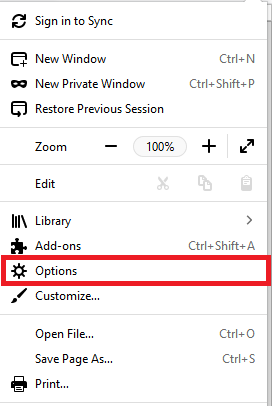 4. On the General tab, scroll down to language and appearance.
5. Click on Choose under Language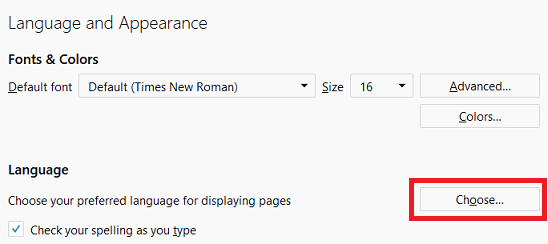 6. Click on "select a language to add"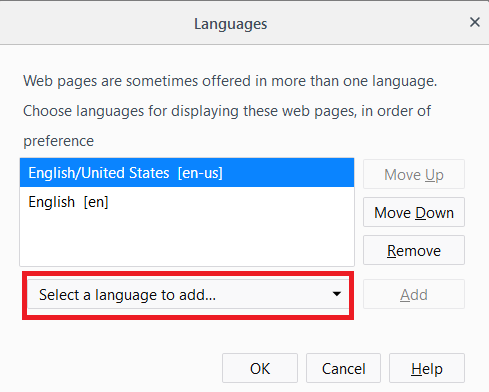 A list of Firefox preinstalled languages will be displayed. It contains about 240 dialects.
7. Select the language of your choice and click on Add.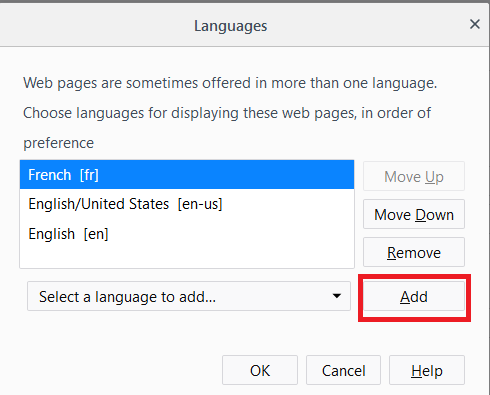 8. Restart your browser.
By now your new language should be added to the list. From observation, the new language displays first by default in order of preference.
You can change the order by using the Move Up and Move Down buttons provided. To remove a particular language from the preferred list options, select it and then click on the Remove button for it to be properly deleted.
If you are satisfied with the changes you have made, click the Ok button to take you back to preferences, once you are there, close the tab and continue your browsing session or input a new URL to start a new session.
Note: Not all page contents may support your preferred language.
And that's a wrap people, I hope you all enjoyed reading this article as much I as loved writing it. Remember to show some love by sharing this article via social media platforms.
Frequently Asked Questions And Answers
Q: How many times can I change my Firefox language?
A: You can change your Firefox language as many times as you desire. There's no limit.
Q: Is Firefox the same as Mozilla Firefox?
A: Yes, it is, Firefox is just a shorter way of calling Mozilla Firefox.
Q: If I move down the language I have just added, can I still choose it as my default language?
A: Yes, you can, it only comes up first because of its preferential order.
How to change the Firefox interface language
Mozilla revealed in mid-2018 that it had plans to improve the handling of different interface languages in the Firefox web browser.
Firefox supported two options back then to change the language of the browser's interface: download and install language packs, or re-install Firefox using the installer of the desired language.
Both options were inferior to how Google Chrome handled language changes. Chrome users can change the interface language directly in the browser without the need to install a language pack or re-install the entire browser.
The release of Firefox 65 improves how Firefox users may change the browser's interface language. Mozilla integrated language switching options directly to the Firefox settings.
Firefox and interface languages
Firefox users may still download a different language version of the web browser and install it over the current installation to change the language, but they don't have to if they run Firefox Beta or Stable.
Firefox Nightly is excluded because strings change frequently in the browser.
Load about:preferences in the browser's address bar.
Scroll down to the Language and Appearance section.
The current interface language is displayed under language. Click on «Set Alternatives» to add additional languages to Firefox.
Select «Select a language to add» and then «Search for more languages».
Firefox retrieves the list of supported languages from Mozilla. Click on «select a language to add» and pick one of the available interface languages to add it as a language in Firefox.

Tip: tap on the first letter of the language's name to jump to the letter in the listing.

Select Add to add the language. Firefox downloads the language pack from Mozilla and adds it to the browser. If a dictionary is available, it is also downloaded.
Repeat the process for other languages that you may want to add.

The order of languages determines the priority in which they will be used. You may use the move up or down buttons to change the order.

Click on the ok button once you are done.
Firefox displays a restart notification afterward if you changed the main display language. The restart notification is displayed in the old and new interface language. Select «apply and restart» to restart Firefox so that the new interface language is used.
The preference intl.locale.requested determines the priority of languages in Firefox. The preference is only available if two more more languages are installed in the browser.
Mozilla hopes to improve the process further in future versions of the Firefox web browser. One possibility that is discussed currently is to complete the migration to Fluent; this would enable restartless language switching and support for non-English fallback locales. Firefox falls back to English automatically if a string is missing from a language file.
Closing Words
The new language changing options in Firefox 65 improve the process significantly. Everything that is needed is included in Firefox or downloaded automatically from that version of the browser on.
While the total number of Firefox installations that have their interface language changed is unclear, it does not appear that uncommon of an operation.
Now You: Did you ever changed the interface language in a browser?
Форум поддержки
How to change Language in Firefox interface to English in Windows?
3 ответа
54 имеют эту проблему
98557 просмотров
Последний ответ от cor-el 4 года назад
I cannon find where to change settings of interface. I need English to be the interface language.
Выбранное решение
If the Firefox user interface (toolbars) is in the wrong language or if you want to change the current language then get Firefox in the language of your choice.
You can find the full version of the current Firefox release (41.0.2) in all languages and all operating systems here:
Инструменты для вопросов

Получать обновления по эл. почте
Подписаться на ленту
Дополнительные сведения о системе
Установленные плагины
Adobe PDF Plug-In For Firefox and Netscape 10.1.13
Intel web components updater — Installs and updates the Intel web components
Intel web components for Intel® Identity Protection Technology
NPRuntime Script Plug-in Library for Java(TM) Deploy
Next Generation Java Plug-in 10.65.2 for Mozilla browsers
The plug-in allows you to open and edit files using Microsoft Office applications
Office Authorization plug-in for NPAPI browsers
NVIDIA 3D Vision Streaming plugin for Mozilla browsers
NVIDIA 3D Vision plugin for Mozilla browsers
5.1.40728.0
Приложение
User Agent: Mozilla/5.0 (Windows NT 6.1; rv:41.0) Gecko/20100101 Firefox/41.0
Дополнительная информация
Выбранное решение
If the Firefox user interface (toolbars) is in the wrong language or if you want to change the current language then get Firefox in the language of your choice.
You can find the full version of the current Firefox release (41.0.2) in all languages and all operating systems here:
Hi, I already have Firefox installed (for years), with a bunch of add-ons.
If I download a new version of FF in another language, will I be able to update FF's interface language as well?
This post https://support.mozilla.org/en-US/questions/1078935 says that I need to uninstall FF first, then install it in another language. Will I lose all my settings if I do this?
Your personal data like bookmarks is stored in the Firefox profile folder, so you won't lose personal data when you uninstall and (re)install or update Firefox, but make sure NOT to remove personal data when you uninstall Firefox as that will remove all Firefox profile folders and you lose your personal data.
You can use this button to go to the current Firefox profile folder:
Help > Troubleshooting Information > Profile Directory: Show Folder (Linux: Open Directory; Mac: Show in Finder)
http://kb.mozillazine.org/Profile_folder_-_Firefox
Note that you can install additional language packs if you want to be able to switch the language in the user interface.
You can find the full version of the current Firefox release (43.0.4) in all languages and all operating systems here:
How to Change the Default Languages in Mozilla Firefox
Tell Firefox which language you prefer when viewing webpages
trait2lumiere / Getty Images
Some websites can be rendered in several different languages, depending on their configuration and your web browser's abilities and settings. Firefox, which supports over 240 global dialects, provides the ability to specify which languages you prefer to use when viewing web content.
Before rendering text on a page, Firefox first validates whether or not it supports your preferred languages in the order that you specified them. If possible, the page's verbiage is then displayed in your preferred language. Not all web pages are available in all languages.
How to Specify Preferred Languages in Firefox
Setting and modifying Firefox's list of preferred languages can be done quickly. See the steps below:
In Firefox, select the hamburger (3 horizontal bars) at the top right corner of the menu bar.
You can also type about:preferences into the Firefox address bar.
Select Options.
In General preferences, scroll down to the Language and Appearance section.
Under Language, select your desired language under Choose the languages used to display menus, messages, and notifications from Firefox by selecting Search for more languages.
In Firefox Language Settings, the browser's current default language is shown in order of preference. To choose another language, select Select a language to add.
Scroll through the alphabetical language list and select the language of your choice. To move it into the active list, select Add.